Become a tutor/mentor and make a meaningful difference in a young person's life.
We empower our community through access to creative youth development and social services that help individuals build the skills they need to break the cycle of poverty and lead fulfilling lives.
Your dollars go far to help build brighter futures.
When you donate to Chicago Lights, your gift goes directly toward programs that create opportunities for youth and adults to break the cycle of poverty. Make a gift today to change lives.
Donate
Every dollar you give goes directly toward empowering youth and adults.
Create a meaningful team-building environment, deepen your impact with Chicago Lights, and give back to the local community by participating in a corporate volunteer experience.
Host a charitable event through our workplace! Chicago Lights is thankful to receive funds raised through jean days, golf tournaments, and other various charitable workplace events.
Employee volunteer grants are part of workplace giving programs created to support volunteerism in communities where employees live and work. Through these "dollars for doers" efforts, companies provide monetary grants to organizations where employees and retirees volunteer on a regular basis.
Your company's donation of goods and services has the power to make a lasting impact with the programs of Chicago Lights. No matter the contribution, your expertise and gifts help sustain and grow our impact in the Chicago area.
Align your business with your civic values and make a difference as an event sponsor. Chicago Lights has a variety of events and sponsorship levels of every size that offer opportunities to get involved, make a difference, and demonstrate the way your business invests in the community.
Learn More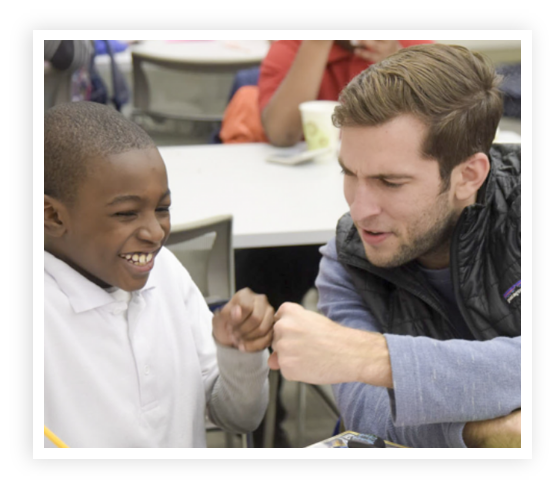 Questions about corporate involvement? Contact Executive Director Stacy Jackson at sjackson@chicagolights.org / 312.981.3562.
Give back to Chicago Lights through your company's United Way campaign. You can designate your pledge to Chicago Lights through United Way's Donor Choice Program. Simply follow the instructions on your pledge form or write in Chicago Lights' contact information: Chicago Lights, 126 E. Chestnut St., Chicago, IL 60611.
Donating items directly from our Amazon wish lists is a great way to give back while knowing that these items are in high-demand and greatly needed for our youth and adults. Items are tax-free and shipped directly to Chicago Lights.
Due to privacy restrictions, Amazon does not provide customer information. If you purchase items from our Amazon wish lists, please forward your receipt to Executive Director Stacy Jackson at
sjackson@chicagolights.org
/
312.981.3562
so we can send you an acknowledgment letter.
Create a lasting, positive legacy by giving a tribute gift dedicated to someone or marking a special occasion. Chicago Lights acknowledges these gifts by sending an appropriate note to the family or honoree. The amount of your gift will not be mentioned, and a separate receipt will be sent to you. During the holiday season, your tribute gifts become part of the Light Up a Life giving program. Please contact Resource Development at giving@chicagolights.org.
Matching Gift Opportunities
Matching gifts are a great way to double or triple your gift—making an even greater impact. Many companies match employees', retirees', and employees' spouses' donations. You may submit the form with your gift or any time during the tax year in which your gift was given. Contact Donor Services Coordinator Ron Porras at rporras@chicagolights.org / 312.252.3598 to learn more. Chicago Lights Tax ID/EIN – 36-3786331
Making a planned gift is not just for those who have wealth or special financial expertise. It is for anyone with a generous spirit who wants to designate their gifts while they are living. Your legacy gift ensures that Chicago Lights will build brighter futures for many years to come.
Thoughtfully planned, any of the following giving options may provide important personal benefits while supporting Chicago Lights into the future.
Bequest through your will or trust
Retirement assets (i.e., pension plans, IRAs)
Life income gift through a trust
Privately held securities
Charitable gift annuities
Real estate
Donor Advised Fund
Naming Chicago Lights as a beneficiary of a life insurance policy
Planned gifts may also provide financial benefits to the donor, including tax savings, reduced capital gains and estate taxes, and release from financial management. Please contact Director of Development Katy Frey Bever at
kbever@chicagolights.org
/
312.981.3380
.